How An Affordable Web Design Company Can Help Grow Your Business
A well designed website is one of the best investments you can make. Having a quality website can help grow your business and strengthen your brand.
Although website design is an expense, there are affordable web design companies out there that can help you build an amazing website that will deeply benefit your company. 
Web design and development companies are here to create amazing websites that will help your business flourish by driving quality traffic straight to your door. 
Littlejohn's WebShop
is devoted to helping your business grow. 
Today, we want to share with you some ways that having a great web design and development company will help your business expand.
1. Web Design Creates An Excellent First Impression
When our affordable web design company was first approached by Best Western Gilroy, they needed our help.  They knew their hotel had so much to offer, but their website didn't provide that welcoming first impression they were hoping for.  The truth is, you have just a few moments to capture your web visitors' attention with a thoughtfully laid out design.  If your website is cluttered, difficult to navigate, and hard to read, your visitors will bounce.  By changing the number of columns, cleaning up the text, and highlighting the benefits of staying at Best Western, our client was able to see a massive increase in their page views and visitors – with 60% of that traffic coming from organic Google search, and over 30% of traffic coming from blog posts.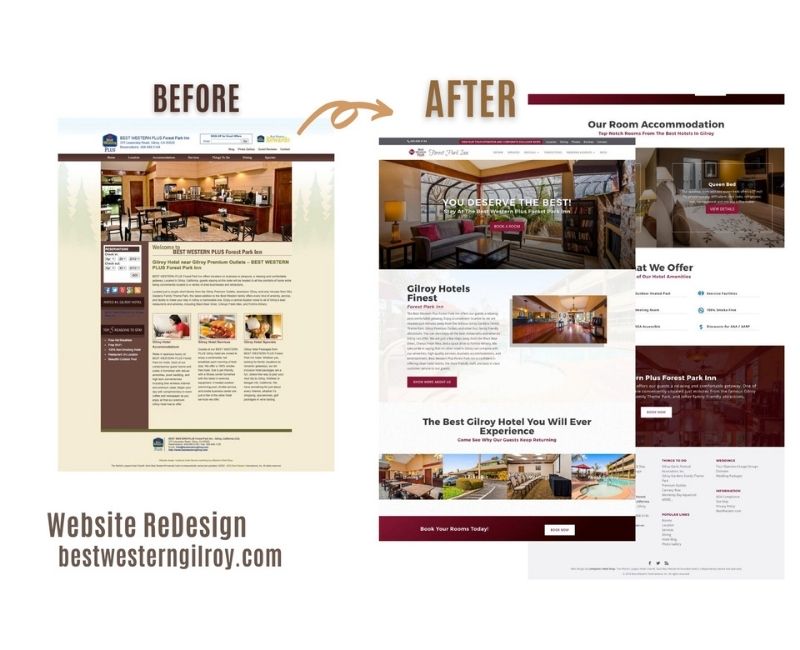 2. Web Design Grows Your Brand Identity
In a sea of businesses similar to yours, it's critical that you have a strong brand identity if you hope to stand out from the pack. When you have a thoughtfully designed website, you can make it incredibly clear who you are and what you do as a business.
3. Web Design Improves Your Advertising And Marketing Reach
Marketing and advertising are immensely important when it comes to running a successful business.    In simple terms, the process of marketing and advertising helps you determine what your customers really desire.  You can then respond by speaking your audience's language. This helps you promote your goods and services in a way that is both helpful and genuine.  When you have your website designed by an affordable web design company, you can incorporate your marketing message and your products into your design in a way that converts your visitors into clients.  A great business website can help you advertise your services and products in a way that resonates with your customers. 
4. Web Design Opens Up Dialogue With Your Customers
Having a website that is easy to navigate is an excellent way to communicate more with your clients.  You can have a contact page with your company's email and phone number that allows your customers to reach you easily.  You can even include a sign up option so your visitors can subscribe to your emails or monthly newsletter. This accessibility can help grow your business through good relationships with your customers and allows you to share more about your brand. 
5. Web Design Keeps You From Falling Behind Your Competition
It is important to keep up with the competitors in your niche.  If you have an out of date or broken website, you can guarantee that you will be ranked poorly on search engines and that any visitors that do stumble upon your page will bounce.  Have you ever been on a website and immediately left because it was such a mess or would not load quickly? Don't let this happen to your prospects! Do yourself and your business a favor. Hire a web design and development company to make you an amazing and up to date website that will keep you ahead of the game.
6. Web Design Enables You To Reach New Clients
Reaching new clients is essential to growing your business. When you have a well designed website it is a lot easier to reach new customers. 
Lyfe Marketing says, "By having an online presence through your website, you are able to reach more consumers. The more consumers you reach online, the more opportunities you have to make a sale. 
Developing a website doesn't automatically bring paying customers to your business. However, through search engine optimization of your website, you can improve your chances of bringing in more qualified leads who are more likely to make a purchase.
Not only does a website help you increase your sales opportunities, but it also increases your availability to make sales. With a website, you can sell your products and services around-the-clock.

Working with an affordable web design company such as Littlejohn's Web Shop can help you create a website that interests more people, and brings you a lot of new clients!
For help creating a great, converting website, click here to contact Littlejohn's Web Shop today.