5 Reasons Why You Need A Custom Website
These days most business owners can grab some templates and throw up a functional website after watching a few YouTube videos. 
It takes some work, but if you can manage a web design yourself, is it really worth it to get a professional to customize one for your business?
While we're all for a good DIY project now and then, when it comes to the face of your business we believe hiring professional help to customize a unique website for your brand is a must. 
Here's why – 
1. A Custom Website Lets Your Brand Shine
One of the biggest benefits to a custom web design vs. generic templates that you plug in is your web designer will work with you to make sure your brand really shines. 
With a custom web design, your business has the opportunity to integrate your brand in a more real way with the use of custom colors, graphics, layout, and more. 
2. A Custom Website Gives You Control
Free websites that are designed by amateurs very rarely make the most of their SEO capabilities, and many of the functions will be limited. 
Here's how a custom design can help you really optimize your most valued marketing tool. 
3. SEO
With a custom web design, multiple small details can be added behind the scenes that will really maximize your search engine rankings. 
When good SEO is built into the framework of your design, it will be easier for you to rank favorably and reach your audience with ease. 
4. Web Maintenance
When you hire an experienced web developer to build your site they will take current trends and advancements into consideration, and ensure that you have the flexibility to grow and change things as you desire in the future. 
They will also make sure your website is set up so you can easily maintain and update it as needed. 
5. A Custom Website Looks Professional And Helps You Stand Out From The Competition
When you take the time to personalize your website so that it fits your unique brand and mission statement, you will not only stand out from the pack, but you will go a long way in building up customer trust. 
Take a look at this photo of Arteaga's Food Center….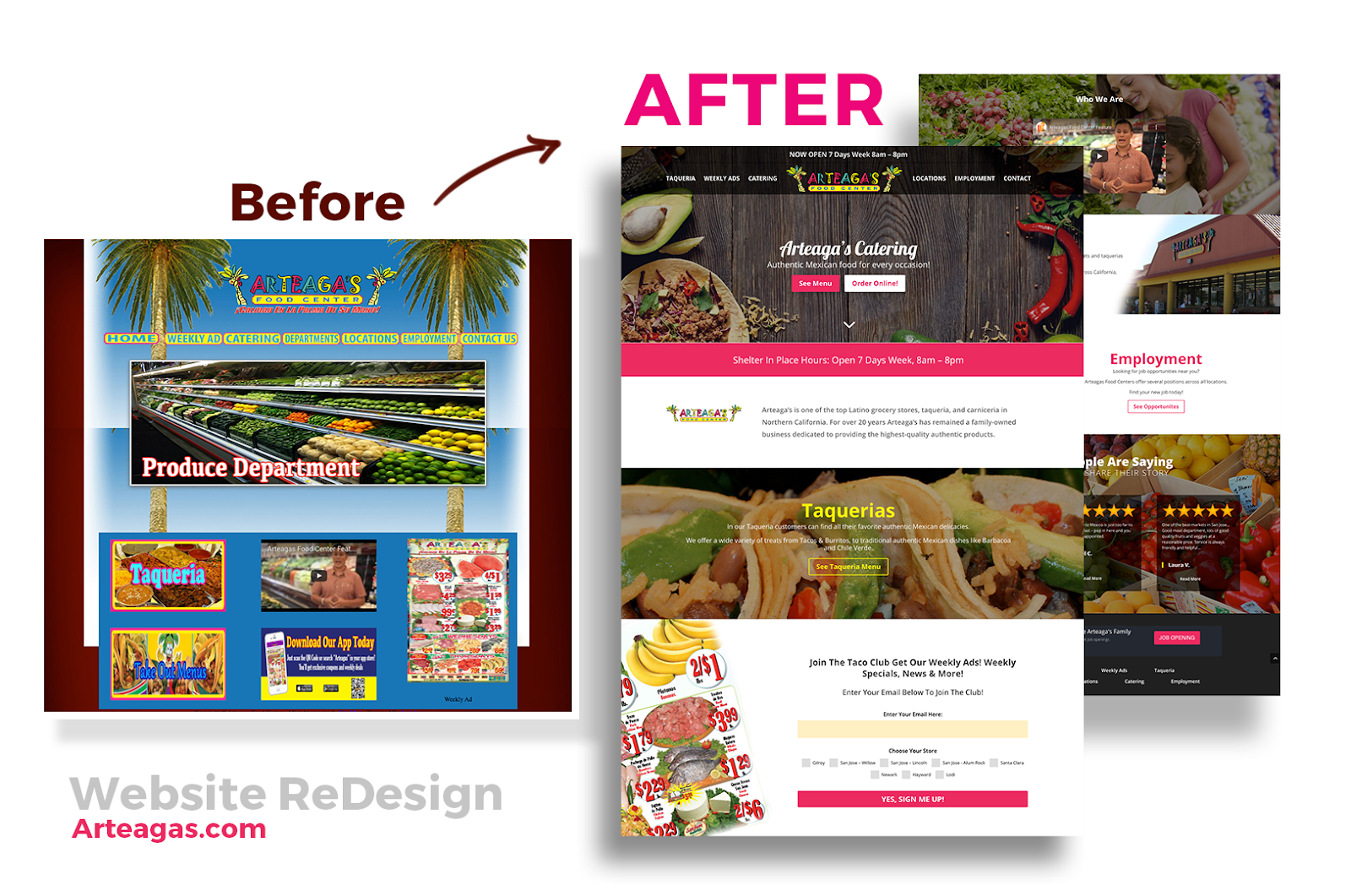 Initially their site was generic, dated, and didn't do a great job of building trust or helping them represent their brand the way they wanted to. 
Littlejohn's Web Shop helped them form a mission statement and a backstory that they can use to build a deeper connection with their customers. 
By highlighting their specials, hours, locations, and the goods they sell in a custom web design, Arteaga's customers can navigate their inviting website with ease. 
The testimonials at the bottom take the trust building one step further by providing social proof of happy customers. 
Just since their new web design, Arteaga's has gained:
330K Page Views
115K Website Visitors
1,300 Job Application Submissions
And 2,500 Email Subscribers!
Here's what they have to say,
"Redesigning our website is one of the best decisions we have made. 
Littlejohn's Web Shop gave our website new life! I constantly get compliments from customers on how warm and fresh our website feels. 
Thank you for helping us grow our business!!"
Alonzo Lopez, Owner
As you can see, a custom web design just might be the thing that takes your business to new levels this year.
If you'd like help with your own custom web design, contact us at Littlejohn's Web Shop today!