How To Use Local SEO To Rank High In Your Area
How To Use Local SEO To Rank High In Your Area 
If you're a small business owner with an online website, chances are you've been preached to about the importance of SEO. 
But if you're a business that offers goods or services to your local community, what you really need to be concerned about is "local SEO."
Having strategies for local SEO will help you rank higher on searches being done in your area, and will increase both your online traffic and your customer base.
But in order to utilize the power of local SEO, you'll need to fully grasp how it works and why it's important.
Today we will define local SEO, and then give you key strategies that you can implement into your business today. 
What Is Local SEO
Local SEO is the process of optimizing your website so that you can not only be found in search engines but so you can be found in your own physical region by potential customers. 
Businesses that rank high on search engines, due to great local SEO practices, will show up first in trending location searches. 
For example, if I search "Best pizza in Hollister, California," the businesses with the best local SEO will show up first.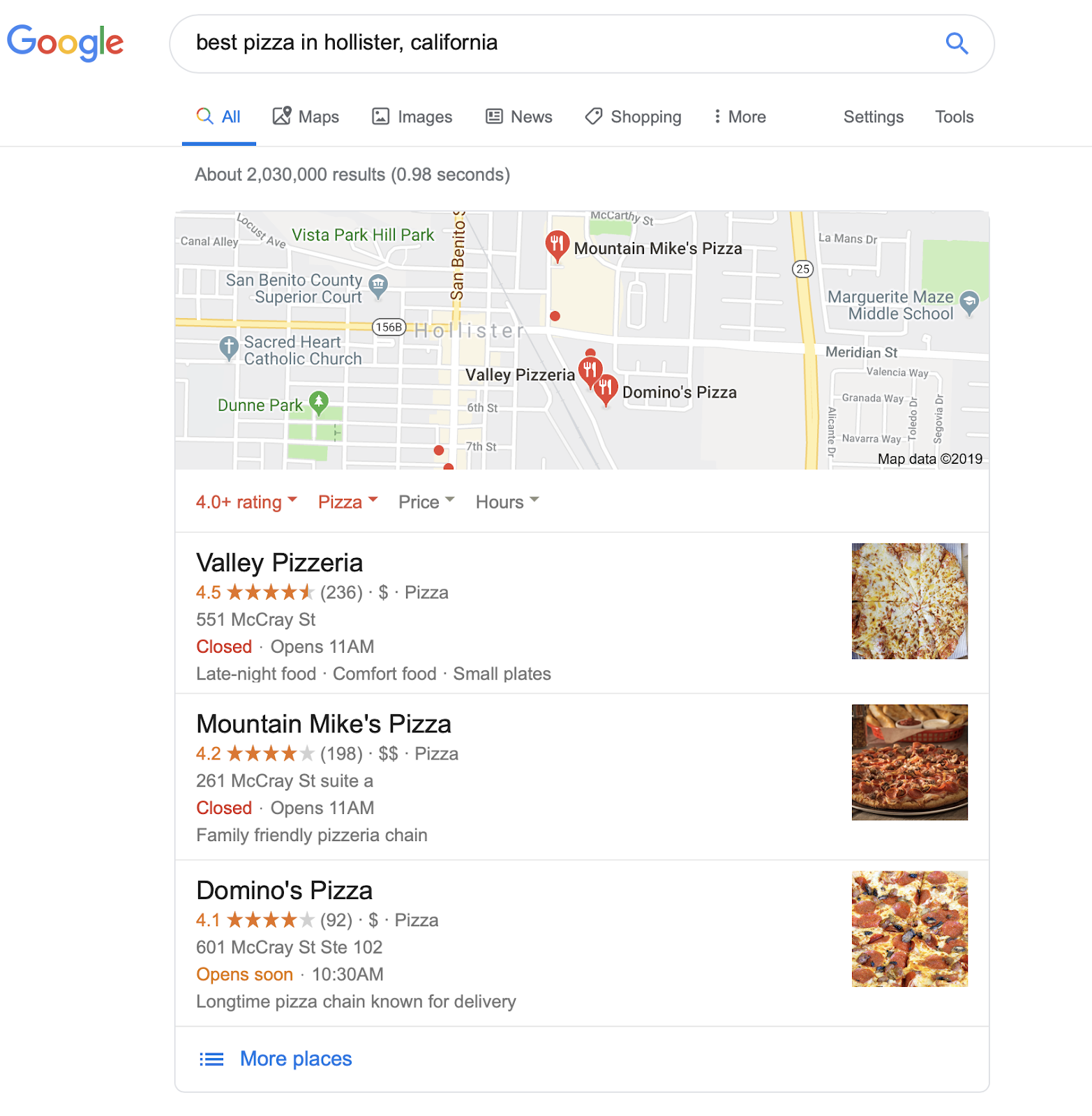 So, is Valley Pizzeria really the best pizza in Hollister? 
Maybe. 
Google does take positive reviews into high account when ranking these websites.
That being said, it's possible to have great reviews and still not show up on these searches, if the rest of your SEO plan is lacking.
That's why it's important to get the big picture of SEO down if you want to rank locally. 
How To Rank High Locally With SEO
Optimize Your Listing 
Google has a list of all of the local businesses in your area, and if you want to show up when people type you into Google Search or Maps, you need to make sure your listing with Google is optimized.
If you're a local business you can claim your free listing on Google My Business. 
You will be asked to input your company name, address, phone number, business hours, and the types of payment you accept. 
Make sure this information is exactly consistent with what's on your website. 
Inconsistencies of any kind will negatively impact your Google ranking. 
But wait – you don't want to just enter the bare minimum and then abandon your business account. 
Be specific in the business description and attribute section.
Even though this is optional to fill out, it will help Google rank you more accurately by your category. 
Focus On Links
Getting links to your website is equally important in local SEO as it is in any other kind of SEO plan. 
You still want to make sure you are publishing valuable content and promoting that content in the right places. 
But unlike other SEO types, you need to be a lot more specific in your link building SEO plan if you own a local business.
In order to target local resource listings and blogs in your area, try reaching out to all of the business directories you can find in your region and ask to be listed there. 
Another great way to get links (and build high brand favorability) is to partner with local schools, charities, and non-profit organizations. 
Offering to volunteer or sponsor as frequently as possible in your local community is a great way to get traffic sourced from other local published articles.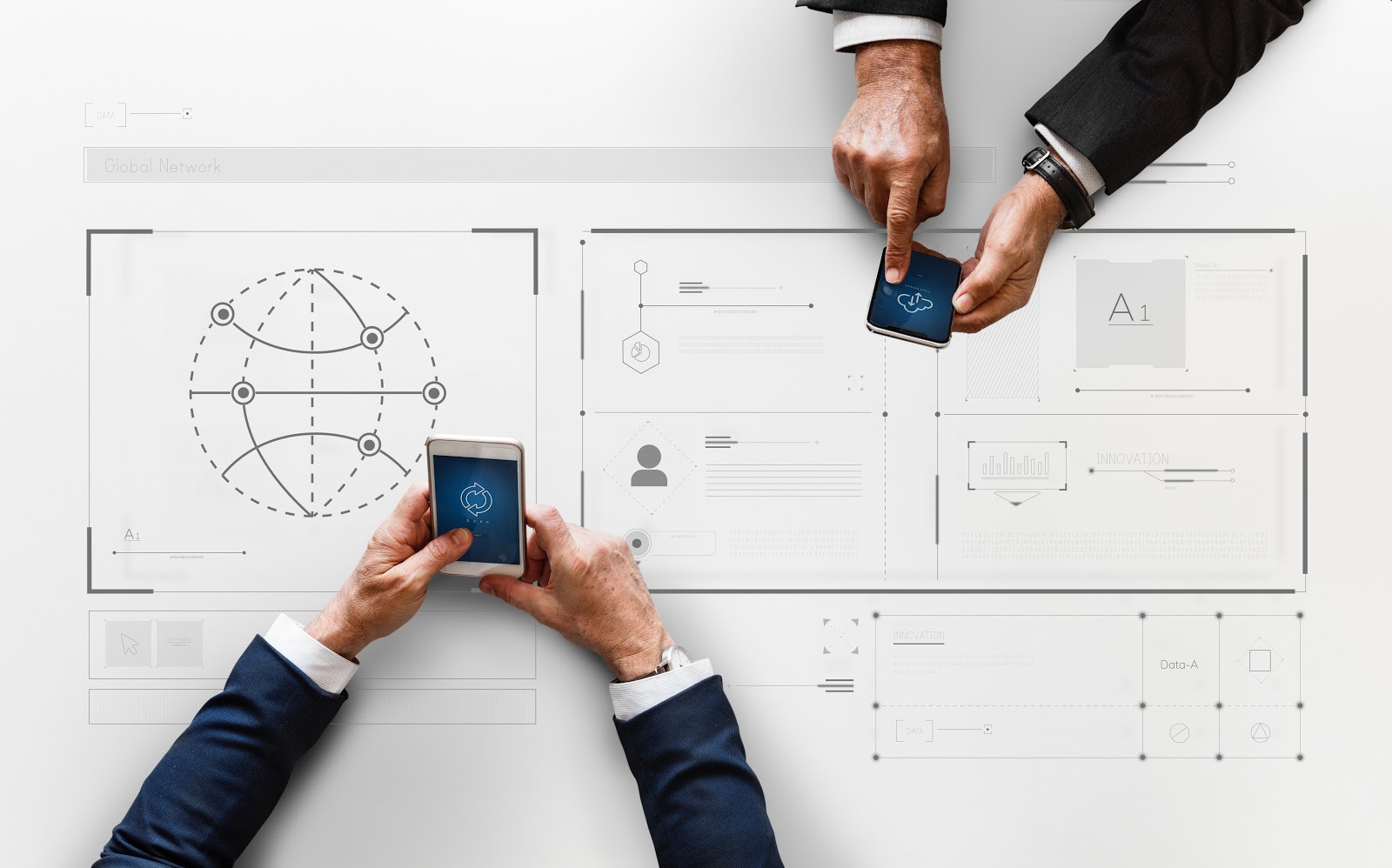 Optimize For Mobile
Over half of web traffic worldwide is generated through mobile phones, and this statistic is only expected to increase each year.
Because of this, it's critical that your website is optimized for mobile – not just for the convenience of your customers, but also so you will rank well in local listings. 
When a web page does not function or appear as it should, Google rates it poorly.
To optimize your website for mobile, make sure: 
You have a fast load time (under 3 seconds)

You use fonts that are easy to read from a handheld device

You don't use clunky blocks of text, or too many images
All of your buttons and opt-ins work from a mobile device, including any contact forms you have
Increase Your Business Reviews
As demonstrated in our search for the "best pizza place in Hollister," positive reviews are one of the largest contributors to a business's local SEO results.
But that doesn't mean you ONLY want good reviews – what you actually want is more reviews. 
The rule of thumb here is to take quantity, even over quality. 
No one expects a five-star rating on a company with 1,300 reviews. It's not realistic. 
And businesses that average between 3.5 and 4.5-star ratings statistically do the most business.
If you have a company goal to increase your reviews, there are many ways you can creatively bake a process into your business strategy. 
Some businesses offer gift cards in exchange for honest reviews, and some print a request for reviews on the back of their business cards. 
One strategy you might try is sending out a monthly email with a short attached survey that submits to a Google review at the end if the participant is willing. 
Produce Great Content 
While every business needs to be producing high-value content, local businesses can get more specific with the kinds of content they're producing – and this is another great method to boost local SEO. 
Marketer Marc Schenker of Word Stream suggests creating content based on local news stories and events. He says, 
"There's nothing quite like authoring content that speaks or relates directly to a local issue to grab your local customers' attention."
Some strategies Marc suggests include:
Writing blog posts around local news stories, activities, or events

Creating videos about local charities or causes that your business supports

Setting up location-specific web pages on your website with high-quality local content if you serve different parts of a region
While a local SEO plan can take some thought and planning, the payoffs for your business can not only be on a large scale, but they can also last for years to come. 
Taking the time to brand your business in a positive way and ensure you are doing all you can to get found in your area will ensure that you are set for success in the future. 
If you'd like help implementing a strategic local SEO plan for your business, contact Littlejohn's Web Shop for a FREE estimate today.